As an entrepreneur, you have most likely spent a significant amount of time determining the best price for your items. But have you considered the expense of getting your goods to the customer? Shipping might be perplexing for small businesses at first. You can, however, nail it with a bit of preparation and guidance. So, in what ways can you deliver your merchandise?
Retailing can be a profitable method to grow your business. However, shipping regulations and procedures might be scary to people new to the industry. Nonetheless, it's not as complicated as it seems. Each day, millions of companies ship their products -and you can, too.
How Shipping Impacts your Business
While many firms begin by providing delivery promotions across the borders through third-party partners, the most successful entrepreneurs employ strategic shipping alternatives to distinguish themselves from their competitors and enhance profitability.
Shipping and handling are as essential to you as they are to your consumers. These factors significantly impact client acquisition and loyalty due to the expenses spent and the ability to meet customer demand.
Of course, although shipping could be a great point of difference for your business, it's critical to ensure that your organization can implement the plan. It necessitates collaboration across numerous teams inside your firm, ranging from your marketing division to your fulfillment team — and many others in between.
Important Considerations
Before choosing a logistics company, there are some variables to consider. Although you can always look into famous courier services, selecting which shipment carrier and approach is appropriate for your small company will be challenging if you don't satisfy the fundamental shipping guidelines.
Here are a few things to think about regarding business shipments.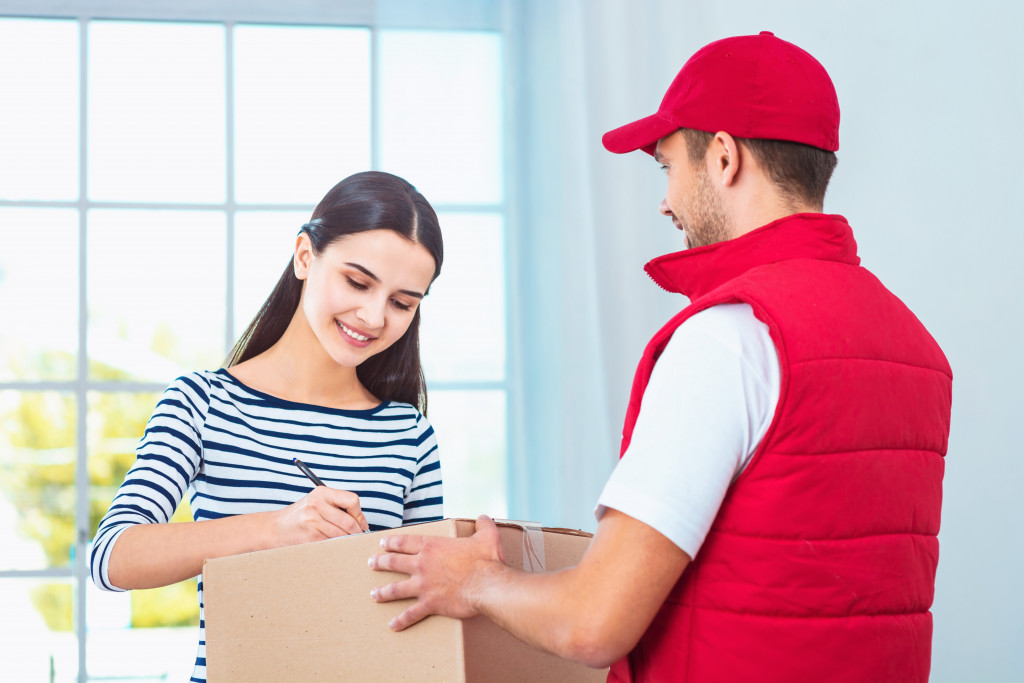 In-House Shipping
The size of your company and the resources necessary and accessible to you directly impact your shipping charges pricing structure. If you select self-fulfillment and handle the shipping yourself, will you conduct operations out of your residence, buy property, or lease a storage facility? That's why it's best to start with your existing customer demand, number of SKUs, and revenue forecasts.
If there is a low order volume, it will be more cost-effective to maintain shipping and handling by yourself rather than outsourcing it. You won't need a comprehensive inventory management system to monitor activities until your company expands to the point where you need workers to help prepare packages.
Storage and Destination
Considering where your products are being sent to will assist you in determining where your starting point ought to be.
You can only store and send from your location when you handle shipping. If you grow your business or outsource services, you need to strategically locate your activities geographically to lower your average shipment cost and transit time.
Delivering from a single location can help you reach your consumers more effectively. As your sales increase and you supply from more sites in various geographic areas, you can minimize expenses even more by having orders dispatched directly from the facility nearest to the destination.
Vehicle Maintenance
Vehicles are machinery, and just like any other equipment, they need upkeep. Unlike not conducting maintenance, servicing keeps your car operating smoothly and safely along the road for a considerably greater distance. You can handle a lot of car maintenance by yourself, but most repairs need the services of a technician.
Have you ever thought about how your vehicle's braking system works? It is the most crucial component for long-distance shipments. Subaru vehicles are well-known for their excellent brake assist features, which can help you get the most out of your investment. It aids the braking efficiency when the car's power is inadequate. It will be a long time before you'll need another Subaru brake replacement in such a situation.
Outsourcing
As your company grows, so will its shipping and handling. The work and expenses involved with your shipping approach will be considerably different from how it's being handled when your business processes more items. That is why many firms rely on a third party to manage the critical details of your specific shipping requirements.
It should come as no surprise that delivery techniques could affect client loyalty. However, if your shipping charges eat into your operating margins, you'll struggle to continue in business. Retailers must aim to provide appealing delivery alternatives that are also appropriate for their business strategies.
Shipping and handling are vital components of your business plan and overall growth. There's a lot that goes in trying to keep consumers satisfied and prices low, from giving the correct delivery options to securing advantageous shipping rates.