It is common for many adults to have vague memories about their childhood. Of course, this is understandable. Many years have passed, and our memories are not as fresh as they once were.
While many of these become blurry, there is one memory that can be hard to forget. Many childhood memories, especially those made before gadgets took over the world, were composed of many hours of playtime outside the house. Memories of outdoor playing often stick with us until we become fully-fledged adults.
As kids, all we wanted to do was to have fun. Playing outdoors is memorable because it induced joy for many of us. These games made us happy, and they became core memories in our lives.
The Importance of Playing During Childhood
Many do not realize this, but playing is an essential aspect of every child's development. Playing helps kids develop their analytical skills. Apart from that, learning how to play with others lets them learn social skills.
Their games can also be an avenue for their creative development. Many games involve creative thinking and imagination, unlocking their artistic side.
Should Kids Play Outdoors?
Of course, these games need to have a venue. Playing outdoors is a great way to explore the world. Outdoor play is an entirely different experience from indoor playing. When kids play outside, they have more flexibility to do more activities.
This is because they are not confined to the walls of their homes. They can play a wider variety of games without having to worry about breaking furniture and appliances. Playing outdoors also lets them exercise, which can contribute to their physical and mental health.
What Is Hindering Them From Doing So?
Some kids find it hard to play outside. For one, some kids have conditions that make it unideal for them to exert physical effort. Some also have medical conditions that hinder their physical ability. Of course, kids with these conditions can still play outside. But they might need to use pediatric medical equipment for safety. Also, they need to be supervised by caretakers.
Also, some parents can be overprotective of their kids. There is nothing wrong with being protective. But over-protection hinders kids from trying new things. Yes, they are not in harm's way. But this can also put avoid good experiences from coming their way.
Apart from that, technological advancements now influence the way kids play. Gaming systems, computer systems, and entertainment on the internet might have caused kids to be disinterested in playing outside. Why play outside when they can have all the fun they want with their video games and phones, right?
The COVID-19 pandemic has also introduced a new precaution for outdoor play. People had to stay inside to lessen the risks of catching the virus. Of course, kids can still play in their backyards. But this situation can be challenging for kids who have limited outdoor space.
While there are many hindrances to their outdoor activity, it's not entirely impossible. Parents should be innovative enough to encourage their kids to go out and play. Let look at several ways on how parents and guardian can help their kids play outside.
Encouraging Kids to Spend Time Outdoors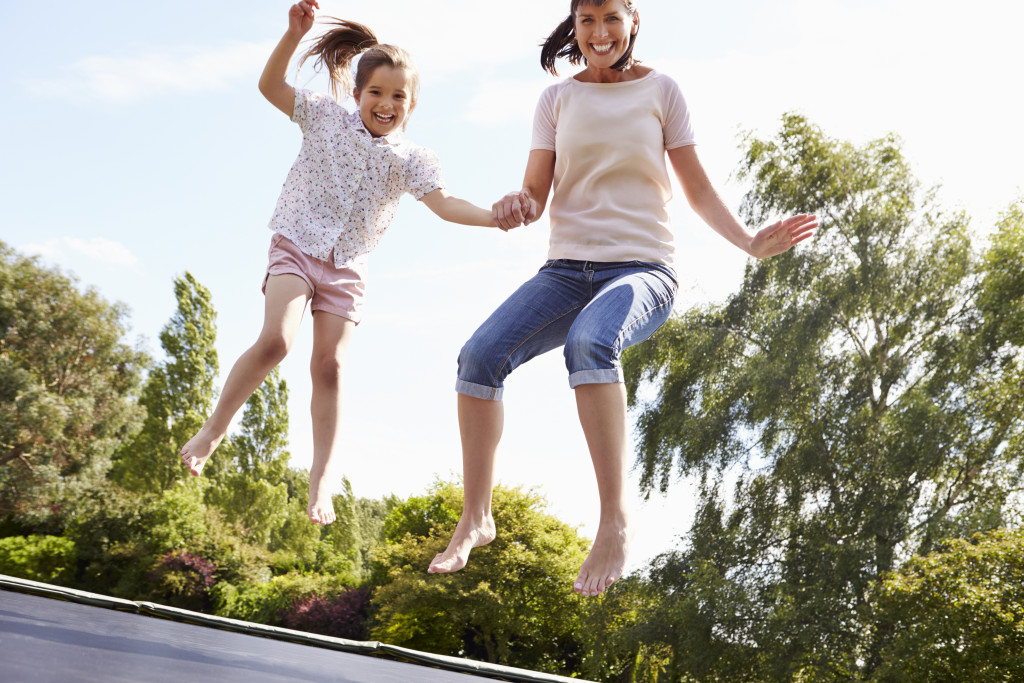 1. Schedule Outdoor Play
It is always a great idea to create a daily schedule for kids and their activities. Having a schedule helps their minds prepare for the day ahead. This can ease the anxiety the uncertainty causes.
Parents can include outdoor playtime in their schedules. This ensures that they have a designated time slot for their outdoor play. There is also a good chance that outdoor playtime can become a habit if they do it consistently.
2. Play With Them
Kids need playmates. Having them might increase their interest in playing outside. Parents can be good playmates with their kids. This can help parents keep a better eye on their children. Apart from that, this also allows parents to spend more time with their kids. They can strengthen their relationship as they spend quality time with each other.
3. Introduce Sports
It would also help to introduce outdoor sports into their lives. Most sports need to be played outdoors. Encouraging them to play a sport can prompt them to spend more time outside. This can also help them get regular physical activity.
4. Regulate the Use of Electronics
Using electronics such as phones and video game consoles might be the biggest reason why kids don't want to play outside. With that in mind, it is wise for parents to regulate their use of electronics. This can free up time and can prompt them to found other activities.
Children enjoy exploring their curiosity, and parents can feed their children's hungry minds by encouraging them to play outside. The outdoors can be a beautiful place for kids to play. They deserve to enjoy the space that the outside world has to offer.