We are all excited about summer. Nonetheless, being a working individual might not be that fun during the summer. It could get heavy during most days, with rising temperatures and all. But here are some of the best ways to survive summer in the workplace.
1. Encourage Wearing Comfortable Clothes
Wearing suits or dark dress codes in the office may not be a good option during the summer months. Even with all the air conditioning and ventilation, the heat from outside could be too heavy to bear.
While it may be true that a certain level of professionalism is expected in the office, companies should give a little leeway regarding dress codes during summer. Having to dress up heavily could leave employees distracted, resulting in less productivity at work.
2. Encourage Employees to Enjoy Full Lunch Breaks Outside
In this busy work environment, it is common to see employees having lunch at their desks while doing some work. Though getting things done is important, valuing one's well-being should be given more priority.
Employers should encourage employees to go on coffee breaks and lunch breaks outside of the office. Doing this helps reduce heat and stress in our bodies due to pressure at work. Taking breaks outside helps one feel more relaxed and comfortable, invigorated to go back to work afterward.
3. Encourage Spending Time With Colleagues
The cheery mood created by the summer weather fosters the need for socialization.
Encourage your employees to spend more time with each other by going on breaks together. You can even plan on a small getaway during the summer months to give your workers a break from the mundane office routine.
4. Plan Outdoor Meetings
Avoid boredom among your employees by scheduling outdoor meetings instead of the usual office boardroom. Since it is all sunny and bright outside, take your team out and let them enjoy a bit more of Vitamin D.
It is truly refreshing and energizing being under the warm heat of the sun while enjoying the scenic views outside. Plus, because of this break from the usual gray, black, and white in the office, workers can concentrate so much better.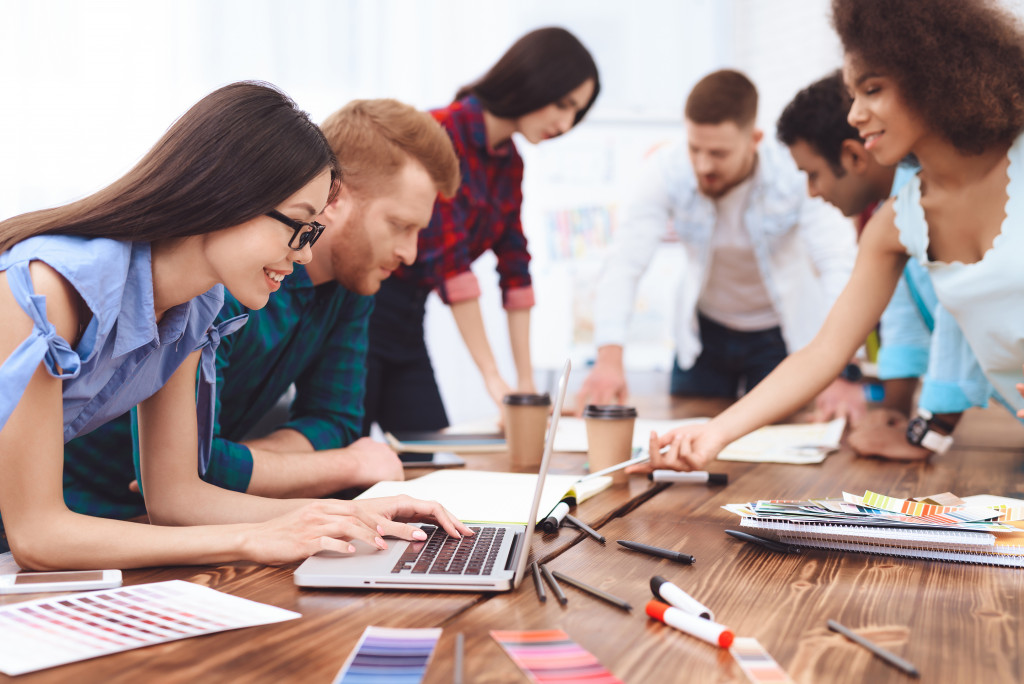 5. Provide Cool Drinks & Fruits
Drinking cool beverages and liquids is one of the ways to beat the summer heat. When the temperature goes up, our body tends to feel more stressed and agitated. Not to mention, the stress we feel from work-related activities adds to this physical nuisance.
Thus, employers can help make stress handling much easier by providing cool beverages and liquids on the office communal fridge. Provide water dispensers as well as cold water options to keep your employees refreshed.
6. Provide a Cool Working Area
Unnecessary stress brought by the weather can be prevented by keeping the office environment cool. Make sure to have your office's HVAC unit checked and cleared of necessary repairs.
Air filters should also be cleaned of debris and dust. Putting some indoor plants also helps keep a cool and refreshed office environment.
People tend to lose their anger for no reason when they are physically uncomfortable. Thus, ensuring that the work environment is cool and refreshed helps prevent likely scenarios.
Summer also means the time of the year for mosquitoes and bugs to start infiltrating our homes, offices, and basically just any other space. Mosquito bites not only are itchy, but they could carry some diseases.
Solutions like mosquito attractants can help prevent your employees from catching nasty diseases carried by mosquitoes.
7. Minimize Work Overload
Working in the office during the summer can be stressful and exhausting. Not to mention, it is often during the summer months that most employees carry the heaviest workload. Given the weather factor plus the stress from all the workload, it is not surprising why someone could get cranky.
To avoid this unsightly behavior, encourage your employees to take time in handling workload. Encourage them to clock out at five and not work overtime.
8. Keep the Place Clean
Finally, keeping the place hygienic is also one of the best ways to keep a cool and refreshing office during the summer months.
Whether you recognize it or not, summer tends to carry some diseases with it. So, to prevent your employees from getting sick, maintain proper hygiene in the office. Furthermore, with the COVID-19 still rampant, proper hygiene must be practiced by everyone.
As people are slowly going back to the offices as more and more are getting vaccinated, valuing worker's safety and comfort, especially during this summer months, is important.