The ultimate place for anyone to unwind and relax has always had something to do with food. Whether that's a restaurant, a coffee shop, a burger, and a hotdog stand — the nutrition, comfort, and nostalgia that these food choices provide give us the urge to keep coming back for more.
Food has always been an integral part of every culture and tradition. According to the Bureau of Labor Statistics (BLS) 2019 Consumer Expenditure Survey, the average American household spends about $8,169 on food alone — spending $3,526 on eating out. Thus, it doesn't come as a surprise why the food service industry is at the top of its game.
However, when venturing into a new business, it's easy to forget or even give importance to small details because of the overwhelming information a business owner needs to consider. But in planning and conceptualizing your strategy, know that these minor details play an integral part in cementing your brand. Whether you're running a fast food, food truck, buffet, or fine dining restaurant, it's an excellent note to include every aspect of your business, as they will play an enormous role in your overall success and impact. It will also add character as well as give you an edge over your competitors.
If you are planning on building your restaurant, consider these elements:
1. Illumination
Choosing the correct type of lighting for your restaurant does not only add to its overall aesthetics. It also improves the mood and dining experience of your customers. In addition, proper lighting can boost the productivity of your staff.
For example, soft and inviting lighting can attract more patrons. Yellow or lights that exude warm tones provide comfort, encouraging them to converse while waiting for their order. This way, you will have ample time to prepare their food without worrying about complaints and walk-outs.
Another additional benefit of good lighting is safety and security. In case of an emergency, well-lit exit signs and doors will help everyone navigate their way to safety. In case of a power outage, an emergency light also comes in handy. Installing sensory lights also helps scare away intruders while the restaurant is closed for the night.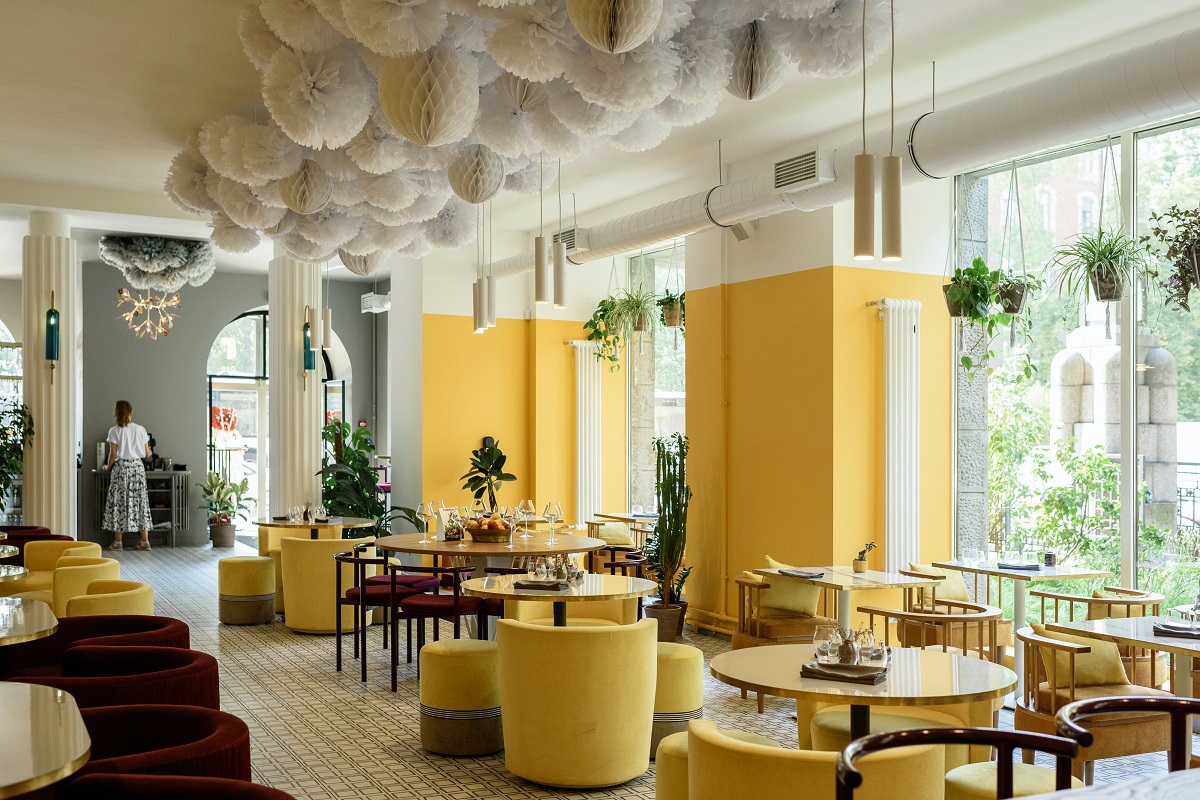 2. Texture
This element is just as essential as the food you are serving. Good textures in the design of your restaurant embody your brand, and the suitable materials and decors you have in mind should go with it. If done right, the perfect surface will add depth and create a luxurious feel to your business.
Luckily, when it comes to texture, the choices are limitless. If your location is in an area with high humidity, going for a glossy finish can help. They are highly durable and easy to clean. You can also go for wallpapers if you want to add more distinction that will easily set you apart from others. Make sure that the elements you put into your restaurant form a homogenous concept.
3. Furnishing
A 2017 research in the Journal of Academic Social Science Studies found that a restaurant's aesthetic value plays a significant role in increasing customer revisits. Thus, choosing the right decor and details that would complement your restaurant's theme is vital to its success.
So, whether you're going for reclaimed barn wood beams for that good old rough, rustic design; comfortable sofas and booths for a more casual family-friendly feel; or even clocks and bar stools for a sports-themed touch, make sure that it speaks to the actual value of the restaurant you are going for.
4. Music and Aroma
The scent of the place and the sounds you play in your restaurant will significantly impact your customer's dining experience. Music is an essential key element, as it sets and changes the overall atmosphere of the place. The choice and the volume of the music can either make your customers eat faster, slow down, appreciate the location, distract them from waiting, drink or talk more, encourage pleasant conversations, and even stimulate their appetite.
Meanwhile, our sense of smell triggers memories and stirs different emotions more than our other senses. If you play your cards right, the scent you chose for your restaurant will seal your brand, making it easier for old and new customers to distinguish you and the impact you had on them, which will eventually keep your customers coming back.
Starting a business is no joke. The preparations, planning, and everything that comes in between all play an essential role in making or breaking your business. Remember that there is no such thing as minor details in the process. Therefore, making careful and strategic steps is just crucial for a successful business venture.