Better and more functional modern workspaces are essential regardless of what industry you're in. One of the popular trends in today's corporate setup is a huddle room. These spaces are typically utilized for quick team meetings or last-minute working sessions. But besides providing the needed physical space, huddle rooms also play a role in improving relationships between team members.
These areas facilitate communication and collaboration and foster productivity and creativity too. And the best part? You don't have to spend a fortune to create huddle spaces. Here are easy steps to help you craft the perfect huddle rooms for your team.
1. Consider accessibility
Next, you'd want to consider the huddle room's visibility. For one, anyone must be able to find the room. Putting up clear lettering or signage in the front of the room. Besides that, think about the placement of equipment too. Your digital displays, screens, and whiteboards should be easy to reach.
Install them on eye level so that even seated people can access them without problems. As for the passageways and flow, avoid placing seating furniture or tables too close to the entrance. If you'll be using a smaller room, reduce the furniture inside so attendees can easily navigate in the room.
2. Incorporate the right furniture
Another crucial decision is the furniture for your huddle room. Opt for comfortable seating that's still professional-looking. However, if you want to set up the space for more casual seating, fun and comfy seating like giant bean bags will do. These less traditional options are also ideal if you're looking to create multiple huddle rooms and want to use them for several purposes.
Besides comfort, ensure your choices also promote productivity, positive mood, and mobility, if necessary. Office chairs with wheels are an amazing choice. Moreover, consider the dress codes or attire of the people who will be using the rooms. If you're fortunate to use bigger rooms, set up tables where everyone can take notes and place their laptops. Or, you can invest in tables with built-in touchscreen or dry-erase tops for reviewing digital projects or blueprints.
3. Invest in easy-to-use tech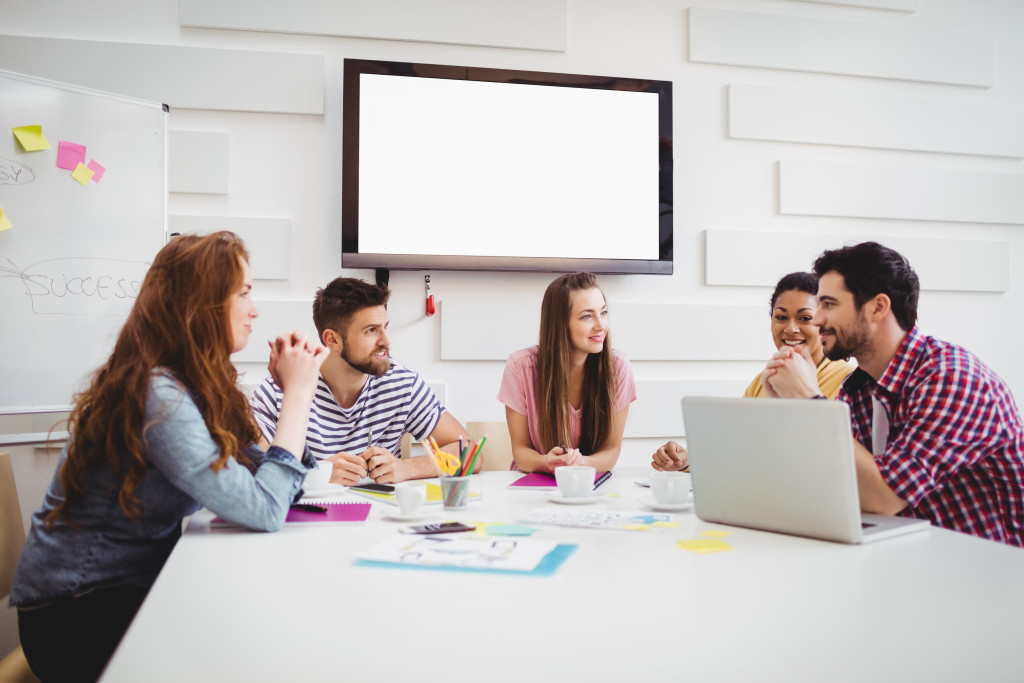 Huddle rooms should be designed for easy collaboration. For such reason, it's best to invest in technologies that are fit for corporate use and can be easily installed and used. Start with conference room solutions that offer basic messaging, video, voice, and content sharing. Such tools are crucial for conducting your webinars, presentations, and training. Apart from software, invest in hardware particularly used for business-grade video meetings, from audio and video systems to TV screens and displays.
Since huddle rooms are meant for quick meetings, it's best to go for plug-and-play technology. Lastly, it's still recommended to teach your team how to operate and troubleshoot every tech and tool used in the huddle room. You can prepare some printed instructions, guided training, or demonstrations. This also reduces the risk of damaging the equipment from misuse.
4. Design for visual appeal
Apart from functionality, your huddle rooms should also be aesthetically appealing. A meeting area that's pleasing to the eye can boost satisfaction, mood, and creativity. For instance, adding a pop of bright colors like yellow, green, and light blue can create a positive and happy space. Use more calming colors for the majority of the walls. You can also add some creative flair into the room and support the community by hanging local artworks.
Or you can invest in personalized American wood flags that you can hang on your huddle room's wall. They're simple but can completely transform the aesthetic of the space. Be careful not to go overboard with the design. Hanging too many wall arts or using multiple clashing colors can ruin the vibe of the meeting room.
5. Secure sufficient network
Technical difficulties can ruin your presentations and meetings. In particular, they can cause delays and annoyance for attendees. That's why it's necessary to have sufficient network bandwidth for the huddle space. After all, your new web conferencing technology will be ineffective if you can't get a reliable and fast network connection. If you want a more stable connection, you can keep your tech as part of the wired network.
Plus, this enables you to free up bandwidth for wireless-dependent devices like phones and laptops. If you want to have a wireless huddle room, you need a separate SSID for the tech inside.
By investing in functional huddle rooms, your team can organize quick meetings and perform presentations without hassle. They are easy and inexpensive to create and even offer better availability. Your departments won't have to waste time queuing for a meeting room. Use this guide to create your perfect huddle spaces and improve team performance.