If you are particular about hygiene and cleanliness, the office setting might not be for you. There will always be that coworker who does not seem to care about keeping their workstation clean and leaves clutter everywhere. After all, nobody wants to work near an overflowing trash bin, dusty stacks of paperwork, and unwashed dishes in the sink.
Even if your office has contracted with professional cleaning companies, some things are best done yourself. Here's how to keep the dirt and germs away:
1. Ask for a deep clean
Professional cleaning companies swoop in every night after office hours and leave the office floor clean, fresh, and litter-free. But if the cleaning services are not up to your standards, you can always talk to the office manager to have your office targeted for a deep clean.
Some of the things a professional cleaner can do include deep cleaning and carpet cleaning. Regular contract cleaning often does not reach hard-to-reach places such as behind cabinets and under office tables. If you want your office to be spotless, ask for a deep clean.
2. Clean your keyboard
Contract cleaners are often tasked with emptying the trash bins, sweeping the floors, vacuuming carpets, and clean shared spaces such as restrooms and the breakroom. However, they rarely clean individual workstations and offices. In most cases, you have to clean your mouse, keyboard, and telephone yourself.
Many employees neglect to clean their telephones and keyboards, but these devices often contain a lot of dust and germs. Research has even shown that desktop computers are dirtier than toilet seats.
Cleaning a keyboard is straightforward. You just need canned air and a keyboard brush. Wipe down the keyboard surface with a non-abrasive cleaner. Use the brush and canned air to remove dust hidden under the keys.
3. Disinfect surfaces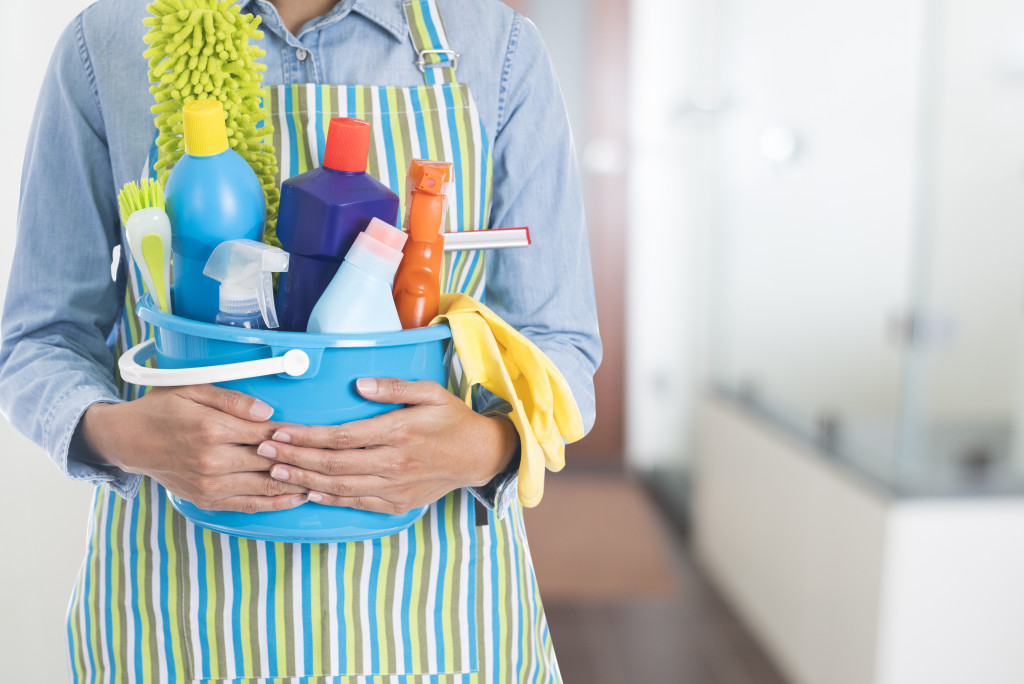 Make it a point to wipe down your workstation at least once a week. Use mild sanitizing wipes to disinfect your desk, telephone, computer, and plants. This will remove any buildup of bacteria, grime, dirt, food stains, dust, and stains. It also allows you to organize your desk and clear litter and garbage every week.
4. Set a fridge schedule
The office fridge is often filled with unlabelled containers and forgotten food. After a couple of days or weeks, it will be impossible to ignore that bad rotting food smell. It might even pose a possible health hazard to others.
If you want to keep the fridge a safe shared space for everybody, ask your coworkers to share fridge-cleaning responsibilities. For instance, everyone must label their food and throw it away if it turns bad. You can also take turns cleaning the fridge every week.
5. Sort your drawers
Everyone has a drawer full of charging cables, pens, notebooks, and a random assortment of objects. To keep your drawers from becoming too messy and disorganized, go through your drawers once a month and wipe it down.
A clean office improves office morale and productivity. These five cleaning tips will make your office and workstation safer, cleaner, and more hygienic for you and your coworkers. Share these guidelines with everyone and make your office a better place.