Invest in high-impact windows, flood barriers/covers, and roof replacement services to protect retail stores from harsh weather conditions.
Keep an eye on weather forecasts and alerts, secure storefronts and equipment, and develop emergency preparedness plans with employees.
Be flexible with business practices, such as adopting curbside pickup options or online ordering if the storefront must close due to severe conditions.
Take necessary precautions, prepare in advance, and invest in protective features like storm shutters and waterproof covers.
The weather can have a significant impact on the retail industry. Natural calamities like storms, hurricanes, and floods can cause significant revenue losses for businesses. While no one can predict the weather, business owners can take measures to protect their retail stores from severe weather damage.
The cost of weather damage in 2020 was estimated to be around $95 billion. According to the National Oceanic and Atmospheric Administration, up to 90 percent of this damage was preventable by taking simple preventive steps. Here are a few tips to help protect your retail store from harsh weather conditions:
Shield your windows
The first point of vulnerability in a business during a storm is the windows. Retailers should invest in high-impact windows that can withstand the impact of heavy windblown debris. If your store is located in an area that experiences more rainfall or flooding, you should consider installing flood barriers or covers to protect your windows from water damage. A simple and cost-effective solution is to use plywood sheets or hurricane shutters.
Secure the roof
The roof is one of the essential elements that you need to think about. Check your roof's condition and regularly inspect and fix any damage, leaks, or cracks present. Ensure the gutters are clean and securely attached and any tree branches nearby are trimmed.
However, if you see signs of significant wear and tear, consider investing in commercial roof replacement services. Replacing your old and worn-out roof with a new and more durable one is a great way to protect your store from harsh weather conditions. Not only will a secure roof protect your retail shop, but it will also provide peace of mind for you and your customers.
Have a backup generator
Sudden power outages can occur during a storm, leading to significant loss of revenue and potential damage to products like frozen food. A backup generator can help maintain power to keep essential devices like security cameras, fridges and freezers, and point-of-sale equipment running. Be sure to install and maintain the generator in a safe space, away from the water, to avoid damage during heavy rainfall.
Stay informed and prepare in advance
As a retail owner, you need to take precautions to ensure the safety of your employees and your storefront. Extreme weather conditions cause physical damage to the building and can also hurt your business operations and cause significant revenue loss. Here are some essential tips and procedures to stay informed and prepare your shop for harsh weather.
1. Keep an eye on weather forecasts and alerts
It's crucial to check for official weather forecasts and alerts in your area to stay ahead of the game. You can download a weather app or check the news for up-to-date information on forecasted harsh or severe weather conditions.
Keep track of the weather in the days leading up to the expected event and take precautions accordingly. You can also subscribe to automated alerts from weather agencies informing you of any sudden changes or warnings in your area.
2. Secure Your Storefront and Equipment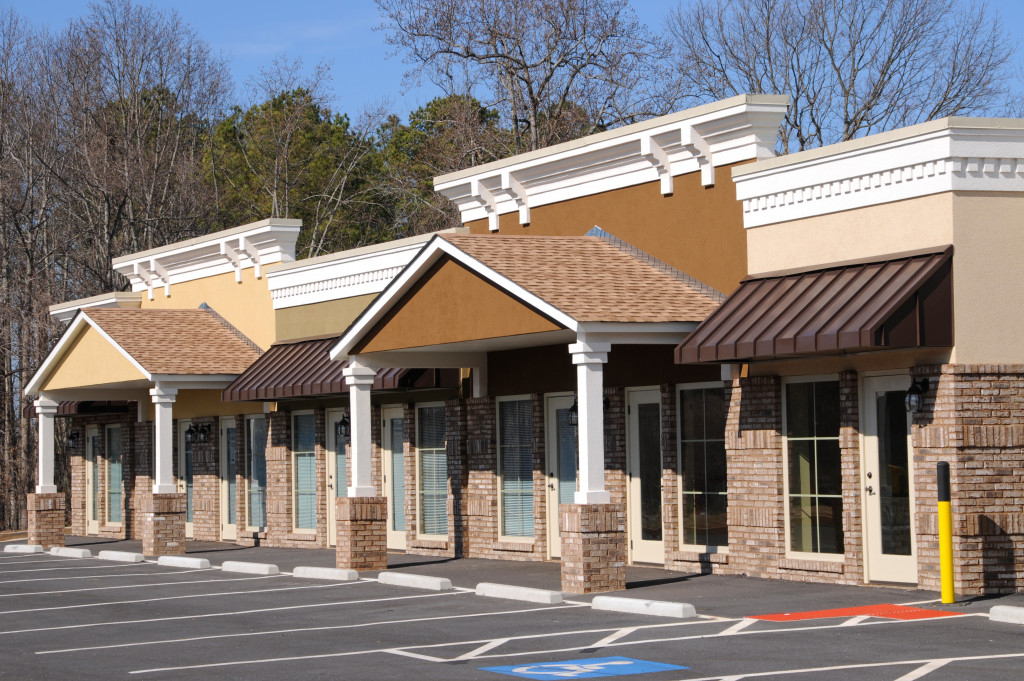 Heavy winds and rain can cause significant damage to your retail shop. Conduct routine inspections of your storefront windows, sidings, and doors to ensure they are secure and not easily detachable.
Pick up any outside railing or chairs and store them indoors to prevent them from blowing away during high winds. Protect electronic equipment and appliances by unplugging them from the sockets or covering them with water repellent.
3. Develop a Plan For Employees
Develop an emergency preparedness plan with your employees and ensure everyone knows their roles and responsibilities in case of harsh weather. The plan should include safety protocols, essential contact information, and an evacuation plan. Ensure your employees know what to do in case of a power outage or other possible emergencies.
4. Be Flexible with your Business Practices
During harsh weather conditions, your business may still be impacted even with the necessary precautions. Roads may be blocked due to floods, employees may not be able to make it to work, and your customers may not want to venture out in harsh conditions.
Be flexible with your business practices during such times. Consider adopting curbside pickup options or online ordering if your storefront must close due to severe conditions.
The Bottom Line
As a business owner, it's essential to have a plan in place to protect your store and employees during extreme weather. You can limit potential damage and revenue loss by taking the necessary precautions, preparing in advance, and investing in protective features like high-impact windows, storm shutters, waterproof covers, generators, and secure shelving. Follow these simple suggestions to keep your doors open, customers happy, and employees safe, regardless of outside weather.